What are the main signs of pigeon infestation?
1️⃣ Increased number of pigeons

One of the main signs that you are dealing with a pest is the considerable increase in the number of pigeons that roam your space, whether at home, in the garden or in a commercial establishment.

2️⃣ Pigeon noises

There are some distinctive noises of pigeons that, in case of infestation, manifest themselves more actively, especially when there are several nests nearby.

3️⃣ Pigeon nests

Pigeons have the habit of making nests in trees, using dry branches and other similar materials, but it is common to find nests on the roofs of houses or under gutters. Look for nest debris or droppings in your space to confirm you have a pigeon infestation.
How to control a pigeon infestation ⁉️
Hiring a pest control company is an effective way to deal with a pigeon infestation. However, there are some preventative measures you can take to ensure that the pigeon plague does not escalate.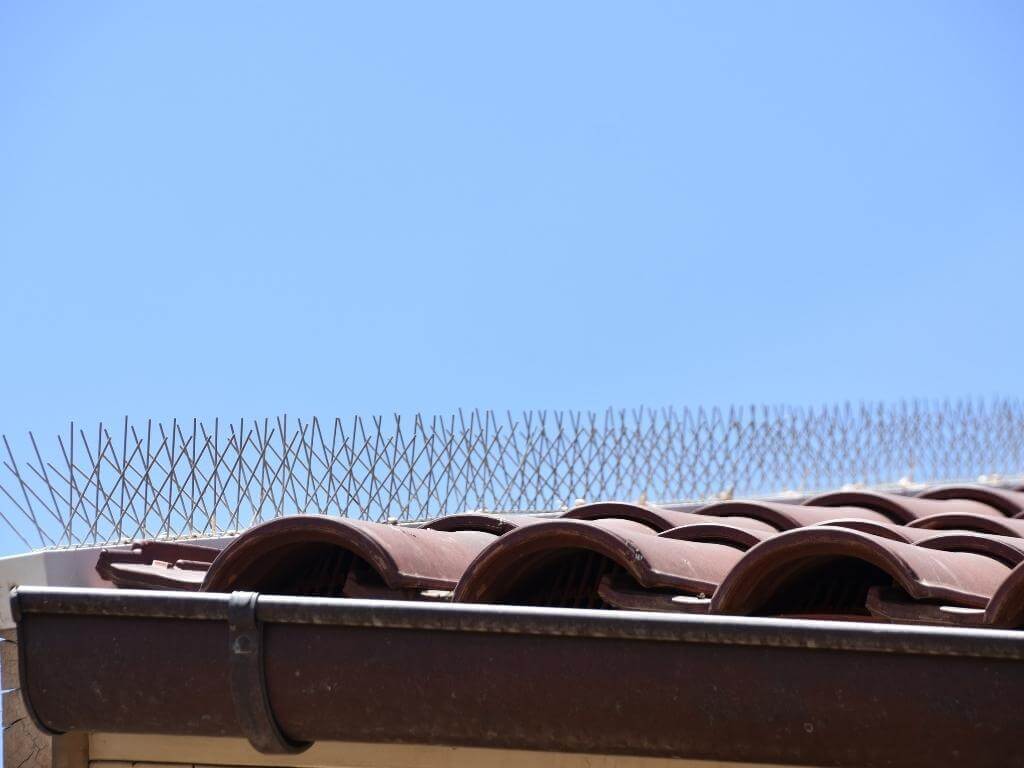 💡 Tip: Use pointed frames
The frames prevent birds from landing and can be installed on both vertical and horizontal surfaces. The ideal is to look for wire or malleable iron frames, but there are some silicone solutions.
How to apply:
1️⃣ Before placing the spikes, clean the place
2️⃣ Place spikes in high places like roofs and gutters.
Como afastar pombos?
Para afastar pombos, existem várias abordagens que podem ser eficazes. Aqui estão algumas sugestões:

✅ Remover a comida

Os pombos são atraídos por alimentos, portanto, evita alimentá-los ou deixar restos de comida ao ar livre. Certifica-te de que as latas de lixo estejam bem fechadas e limpa qualquer derramamento de comida imediatamente.

✅ Bloquear o acesso a áreas de pouso

Os pombos gostam de pousar em superfícies planas, como telhados, beirais e janelas. Tenta bloquear essas áreas com os nossos espigões de aço inox que são específicos para afastar aves.

✅ Usar repelentes visuais e sonoros

Pombos são sensíveis a estímulos visuais e sonoros. Pendura fitas ou objetos brilhantes perto de áreas problemáticas para assustá-los. Também existem dispositivos sonoros projetados para emitir sons desagradáveis para as aves.

✅ Instalar redes de proteção

Se os pombos causarem problemas em áreas maiores, como varandas, terraços ou pátios, considera a instalação de redes de proteção. Estas redes impedem que as aves acedam o espaço, mantendo-as afastadas.

✅ Usar repelentes naturais

Existem alguns repelentes naturais que podem ajudar a afastar os pombos. Por exemplo, pombos não gostam do cheiro de cravo-da-índia, pimenta ou óleos essenciais de hortelã-pimenta e eucalipto. Espalha essas substâncias em áreas problemáticas para dissuadi-los.

Ao adotar estas medidas para afastar pombos, é fundamental fazê-lo de forma ética e respeitando as leis de proteção animal. Evita causar danos ou sofrimento desnecessário às aves. Se necessário, consulta um profissional especializado em controlo de pragas para obter orientações adicionais e adequadas à sua situação específica.